White Barn Winery and Special Events Facilities on Fourteen Beautiful Acres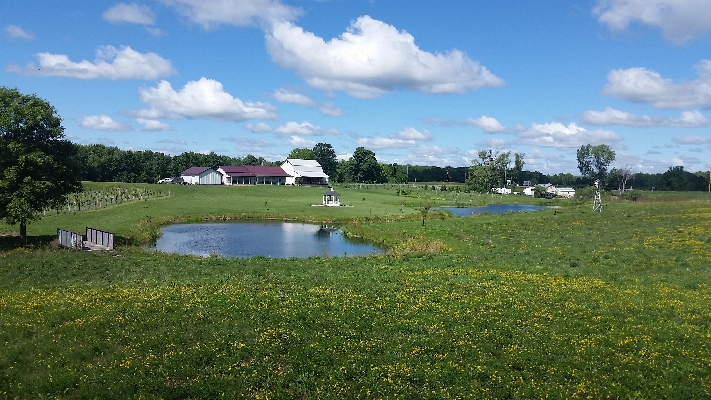 A unique, fourteen acre property, with a complete winemaking operation, tasting room, and a beautifully restored 1,580 sq. ft. barn structure for special events. The winery and signature white barn building overlook a natural 1.5 acre pond and gazebo, set amidst rolling terrain, with 295 feet of prime NYS Rte 5/20 frontage. A Planned Development District permit allows  up to four hospitality cottages and/or operation as a brewery facility. The property is located midway between Auburn, NY and the new Del Lago casino complex(9 miles to each.)

The impressive barn building has a large main floor area with two new ADA restrooms and a 300 sq. ft. mezzanine. There is a large covered deck with removable tent siding for additional seating. An 80,000 BTU furnace provides heat for early spring and late fall events. 

The 600 sq. ft. winery tasting room is located adjacent to the barn, across a 1,000 sq. ft. slate patio. The attractive tasting facility is open and bright with an impressive serving bar, made of natural reclaimed wood. There is a modern ADA lavatory for visitors. Outside the tasting room and along the eastern end of the production and storage facilities is a covered 600 sq. ft. concrete patio area, overlooking the property's pond and acreage.

The 750 sq. ft. wine production room, with its twelve foot ceiling clearance and concrete floor, is adjacent and connected to the tasting room. HVAC includes in-floor radiant heat, a backup system, modern boiler, and central A/C. Necessary equipment is on-site for production of 800 cases of wine(see detailed listing.)There is also a lab area and an employee bath/shower.

Adjacent to the production room is a dry storage area that can provide additional wine making capacity. Connected via a large overhead door, this 672 sq. ft. area has twelve foot ceiling height, pallet racking, and a complete tool bench area. There is also a working 144 sq. ft. insulated refrigeration room with two access doors. 

Another interior overhead door leads to the 960 sq. ft. garage section with 10 foot ceiling clearance and a gravel floor. The exterior access is a two vehicle overhead door.

The entire winery/tasting facility is professionally laid out, enabling future expansion of the various production/retail phases or additional capabilities. Two acres of vineyards are planted throughout the gently rolling property terrain, and there is plenty of level parking capacity.
This is truly a turnkey opportunity, with existing cash flow, branding, licenses, and permits.


Listing of Additional Equipment
Wine Racks for retail display
Ten installed sinks meet food prep and winery requirements
200 Amp electrical service installed throughout
Backup boiler Unit
Two hot water tanks
Aeration windmill and three air stones provide pond oxidation and circulation
Heavy duty bridge installed over pond area
Attractive gazebo at pond side
1,500 gallon septic system
Twelve each 70 gallon flex tanks
Twelve each 80 gallon flex tanks
Prescott Isle fifty gallon simple filter
Four spout bottler & corker
Outdoor concrete crush pad – 200 sq. ft.
Pallet Racking – Two complete tiers
Work Bench and Complete tool set
One 22 HP Massey Ferguson Tractor – Low hours
One 24 HP Massey Ferguson Tractor – Low hours
One 48" Tiller Unit
One 3 pt. Sprayer
One 72" Finish Mower/Cutter unit
One winter sleigh
One Ranger vehicle w/ rear storage box
Ten round banquet tables
Ten rectangular banquet tables
100 plastic folding chairs and 100 silverware settings
40 cloth folding dining chairs
12 padded stacking dining chairs
3 each patio heaters
10 sink units comply for food prep
1 smoker/cooker unit
Complete Catering Cart w/ implements, plates, chafing dishes, 100 silverware settings, etc.
Two large refrigeration units in addition to the 12 x 12 x 10 walk-in room

For additional property details and info please contact edatwill@htva.net Ph(607)546-2984.
...more info>>